Third Annual National Pig Day Celebration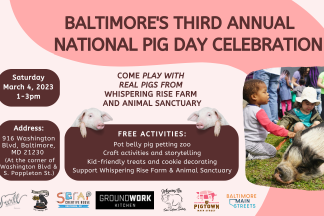 Come play with real pigs from Whispering Rise Farm & Animal Sanctuary at the corner of Washington Boulevard and Poppleton Street on Saturday, March 4, 2023 from 1-3pm for BALTIMORE'S THIRD ANNUAL NATIONAL PIG DAY celebration!
Date and Time: Saturday, March 4th 1 - 3pm
Address: 916 Washington Blvd, Baltimore, MD 21230 (On corner of Washington Blvd & S. Poppleton St.)
FREE ACTIVITIES
- POT BELLY PIG PETTING ZOO
- KID-FRIENDLY Treats & Cookie Decoration with Groundwork Kitchen
- CRAFT ACTIVITIES & STORYTELLING with Scrap Creative Reuse, Charm City Books, and Swill
- RAISE FUNDS FOR THE WHISPERING RISE FARM & ANIMAL SANCTUARY
Whispering Rise Farm & Animal Sanctuary is a 501(c)(3) nonprofit organization whose mission is to provide sanctuary to surrendered, abandoned, or seized potbelly pigs who are products of the pet pig trade. Their secondary mission is to provide humane education to the public, and to offer an anthropological experience to individuals and small groups.
Event Contact
Daniel Khoshkepazi
631-912-6217
Event Details
Saturday, March 4, 2023, 1:00 PM – 3:00 PM
Free
Location
Add Event To Your Calendar