Out of the Ashes: The Great Baltimore Fire of 1904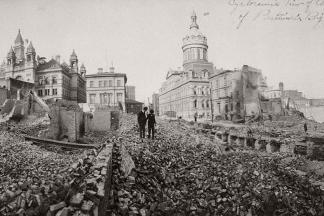 In February 1904, Baltimore's chief firefighter cabled Washington DC: "Desperate fire here. Must have help at once!" A tremendous fire was sweeping through downtown and showed little signs of stopping. Not until 5:00 p.m. the next day was the fire brought under control. Overall, it destroyed 1500 buildings, left 35,000 people unemployed, and damaged $150 million of property. Resilient Baltimore rebounded quickly, erecting new buildings, widening streets, and improving fire safety designs. Rising out of the ashes, Baltimore used the fire to rethink the city, and the downtown we know today is shaped largely by this incident. Join us on this walking tour as we see what 2500 degrees Fahrenheit heat can do to blocks of solid stone, learn how the fire shaped architecture locally and across the country, and hear the tale of one of the fire's great heroes: Goliath the horse.
Our Monumental City tours are guided walks exploring iconic Baltimore landmarks in Downtown, Ridgely's Delight, Mount Vernon and Federal Hill on the first four Sundays of each month from April through November, except holiday weekends.
Event Contact
Molly Ricks
2403053984
Event Details
Sunday, April 2, 2023, 9:30 AM – 10:30 AM
2403053984
Location
Add Event To Your Calendar