Black Joy Between Pages: A Conversation with Beverly Jenkins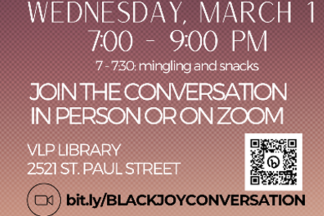 Beverly Jenkins is a pioneer of historical romance, in all senses of the word. She broke ground by writing in periods often overlooked by others, centering Black love and making space for Black romantic stories that weren't set around slavery or the civil rights movement. Younger authors credit her with the fact that they decided to pick up a pen and her work has received many honors. Her most recent series, "Women Who Dare", is about women who dare to dream beyond what society deems acceptable.
Join the conversation in person at the VLP Library or on zoom!
bit.ly/BLACKJOYCONVERSATION
Event Contact
Village Learning Place
4102352210
Event Details
Wednesday, March 1, 2023, 7:00 PM – 9:00 PM
Free
Location
Add Event To Your Calendar