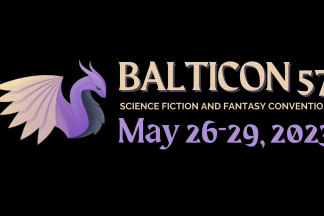 Balticon is a four-day celebration of Science Fiction and Fantasy!
Join over fifteen hundred fans of all backgrounds as we gather to celebrate Science Fiction and Fantasy with more than 300 hours of diverse programming, from award-winning authors and publishers to twitch live-streamers, from cosplay experts to renowned scientists and tech innovators. Sing along with our filkers, soak in our stunning Art Show and Masquerade, laugh and cry at our Film Festival. We've got something for everyone.
Our Guests of Honor this year are as follows:
Author Guest of Honor: Jane Yolen
Artist Guest of Honor: Ariel Burgess
Music Guests of Honor: Technical Difficulties 2.0
Ghost of Honor: Daphne Eftychia Arthur
With Special Guests:
2023 Heinlein Award Winner: John Scalzi
2023 Compton Crook Winner: TBD
Former Compton Crook Winners: P. Djèlí Clark and Micaiah Johnson
Check out balticon.org for more information.
Event Contact
The Baltimore Science Fiction Society
4105632737
Event Details
Friday, May 26, 2023, 12:00 AM – Monday, May 29, 2023, 12:00 AM
4105632737
Location
Add Event To Your Calendar