Datum Observations art exhibition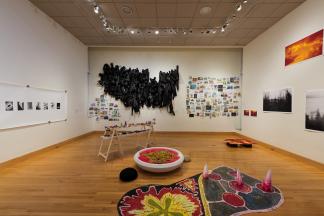 DATUM Observations
Dates: January 30 – May 27, 2023
Stevenson University Art Gallery in the Theatre Lobby, Greenspring campus
The Exhibition Department at Stevenson University is pleased to announce the 2023 Art Gallery exhibition DATUM Observations. A datum is a bit or byte of information worth taking into account, or an organizing form that provides continuity between multiple design elements. The DATUM Observations installation considers the tension we might feel and encounter when multiple stimuli compete for our singular attention. The datum dialectic between Nature and the Man-made is this exhibition's subject.
The work selected for this exhibition present extended observations of behaviors, spaces, people, places, and things. These works also help us consider ways in which environments inform our awareness of change-over-time. Each singular data set help us consider "pieces" of information worth taking into account.
The six artists featured in the exhibition are Inna Alesina, Jerome C. Gray, Christopher Hutchinson, Christopher Metzger, Dan Meyers, and Ross Wheeler. Three are photographers, two are designers, and one is a fine artist.
The DATUM Observations opening reception will be on Saturday February 25, 2023 from 1 to 4pm weather permitting*. A second reception before the Theatre Media and Performance production of A Little Shop of Horrors will take place on April 23, 2023 from 12:30-2pm. Follow @suartsalive social media for additional programming information.
The Art Gallery is open Monday through Friday from 9am to 7pm and on Saturday from 11am to 4pm. The Stevenson University Art Gallery is located on the Greenspring Campus, 1525 Greenspring Valley Road, Stevenson, MD 21153.
For more information about this exhibition contact Lori Rubeling, Faculty Director of Exhibitions, [email protected].Additional information about Stevenson University's Exhibition Program can be found at www.stevenson.edu/arts.
* If there is inclement weather on February 25, the proceeding Saturday, March 4 will be the reception snow date.
Event Contact
Lori Rubeling
2403677358
Event Details
Monday, January 30, 2023, 9:00 AM – Saturday, May 27, 2023, 4:00 PM
Free
Location
Add Event To Your Calendar