SFNC Happy Hour Fundraiser & 60th Anniversary Beer Launch!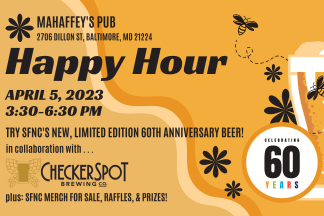 Join us on April 5th at Mahaffey's Pub for a special happy hour benefiting St. Francis Neighborhood Center, Baltimore City's oldest youth enrichment center! We'll be officially launching our brand new, limited edition 60th anniversary beer, brewed in collaboration with local Checkerspot Brewing Co! This unique Session IPA will feature notes of honey and bitter orange, and we're so excited for you to finally get to try it. SFNC will receive 100% of the proceeds from our 60th anniversary beer and 50% from a specific happy hour beer (TBD)! We'll also have an array of commemorative SFNC merch for sale as well as raffles and prizes available. RSVP on Facebook: https://fb.me/e/2Diu4SFrd
St. Francis Neighborhood Center (SFNC) is a 501(c)(3) nonprofit community-based organization founded in 1963 to serve Reservoir Hill and Penn North, Baltimore. Our mission is to end generational poverty, and for the past 60 years we have provided critical resources through holistic intervention programs for youth and families at no cost to the neighborhood to meet that goal. Driven by our community, we continuously evolve and develop programs that mirror the needs of our community.
If you like what you taste (or you're just an enthusiastic supporter of SFNC) you'll have the opportunity to have more of this limited edition beer at our 60th anniversary gala on May 5th! Tickets and group sponsorships are available now: stfranciscenter.org/60years
Event Contact
Event Details
Wednesday, April 5, 2023, 3:30 PM – 6:30 PM
Free
Location
Add Event To Your Calendar