The Culture: Hip Hop and Contemporary Art in the 21st Century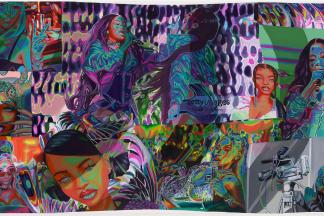 Since its emergence in the Bronx in the 1970s, hip hop has grown into a global phenomenon, driving innovations in music, fashion, technology, and visual and performing arts.
Coinciding with the 50th anniversary of the birth of hip hop, The Culture: Hip Hop and Contemporary Art in the 21st Century captures the extraordinary influence hip hop has had on contemporary society through more than 90 works of art and fashion by some of today's most important and celebrated artists and iconic brands including Virgil Abloh for Louis Vuitton, Derrick Adams, Mark Bradford, Cross Colours, Dapper Dan and Gucci, Lauren Halsey, Julie Mehretu, Adam Pendleton, Tschabalala Self, TELFAR, Hank Willis Thomas, and Carrie Mae Weems.
The Culture, co-organized with the Saint Louis Art Museum, explores the past two decades of hip hop through a wide range of painting, sculpture, photography, installations, video, and fashion organized into six themes—Language, Brand, Adornment, Tribute, Ascension, and Pose.
"Hip hop's impact, meaning, and influence are both imperceivable and obvious, and are felt, in equal measure, across both mainstream culture and fine art in the U.S. and abroad," said Asma Naeem, the Dorothy Wagner Wallis Director. "With this exhibition, we are developing a greater depth of scholarship about hip hop, and how it appears as its own canon in so many aspects of contemporary artmaking, allowing us to better understand its distinct qualities and the reasons why it has so deeply embedded itself in the global psyche."
See the exhibition first during our Member Preview Days on Saturday, April 1 and Sunday, April 2.
The Culture will be free for all visitors on April 16, May 21, and June 18.
On Thursdays the Baltimore Museum of Art is open until 8pm.
Event Contact
Sarah Pedroni
4435731700
Event Details
Repeats weekly Sunday and Wednesday and Thursday and Friday and Saturday -- until Sunday July 16, 2023 -- except Sunday June 18, 2023.
443-573-1701
Location
Add Event To Your Calendar