Learn to Weave at Lovelyarns in Hampden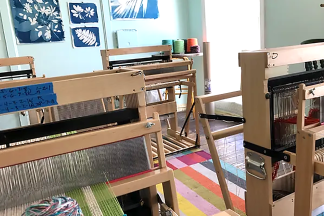 Learn to weave on a floor loom!
Total of four sessions.
Let Clare guide you on your fiber journey to help make your dream project become a reality in this super fun weaving workshop! You will learn all the basics of weaving on a floor loom from soup to nuts. All materials are included in this multi-session workshop. Bring a snack, beverage, and a sense of adventure! If you have some ideas about what you want to make, bring those along too!
Cost: $300
Dates: Tues., Apr 11, 2023, 6:00-9:00PM; Thurs., Apr 13, 2023, 6:00-9:00PM; Tues., Apr 18, 2023, 6:00-9:00PM; Thurs., Apr 20, 2023, 6:00-9:00PM
Sign up or learn more here: https://www.lovelyarns.com/service-page/learn-to-weave-1?referral=service_list_widget
Event Contact
Clare
410-662-9276
Event Details
Tuesday, April 11, 2023, 6:00 PM – 9:00 PM
Thursday, April 13, 2023, 6:00 PM – 9:00 PM
Tuesday, April 18, 2023, 6:00 PM – 9:00 PM
Thursday, April 20, 2023, 6:00 PM – 9:00 PM
410-662-9276
Location
Add Event To Your Calendar