BSO Presents Angel Blue and Rachmaninoff 2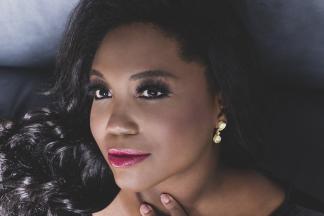 Fresh off her role in the celebrated Metropolitan Opera production of Terence Blanchard's Fire Shut Up in My Bones, the Baltimore Symphony Orchestra welcomes Angel Blue, one of the opera's stars who "soared impressively" (The New Yorker), "bringing her luminous soprano voice and unforced charisma" (The New York Times).
Maestra Oksana Lyniv, who is Ukranian, requested this change in repertoire to reflect the present conflict in Ukraine. Janáček's Taras Bulba is a rhapsody for orchestra based on the 19th century novel by Nikolai Gogol, in which warriors from what is now Ukraine defend their lands from advancing Polish armies.
This concert repeats on Sat., March 25 at 8 PM at The Music Center at Strathmore in North Bethesda and on Sun., March 26 at 3 PM at the Joseph Meyerhoff Symphony Hall in Baltimore, MD.
Kids Listen Free – For all Classical and Pops concerts, children ages 7-17 may attend free with the purchase of an adult ticket. Reservations will need to be made in advance, by phone or in person. Limited quantity of free tickets available for each performance, with quantity based on demand. Up to two (2) free children's tickets available per one (1) full price adult ticket, maximum of six (6) free children's tickets allowed per household for each performance. See website for additional information.
Dates, times, repertoire, and locations are accurate as of the posting of the event information. For more information, visit www.BSOmusic.org or contact [email protected] or by phone at 410-783-8000 or toll free 877-276-1444.
Event Contact
Patron Support
410-783-8000
Event Details
Friday, March 24, 2023, 8:00 PM – 10:00 PM
Sunday, March 26, 2023, 3:00 PM – 5:00 PM
410-783-8000
Location
Add Event To Your Calendar