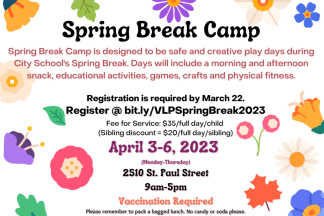 Monday, April 3-Thursday, April 6 – 9am-5pm
Spring Break Camp is designed to be safe and creative play during Spring Break, Monday through Thursday. Fun Days will include an afternoon snack, homework, games, crafts, and physical fitness. This is a fee-based service. Registration is required by Wednesday, March 22nd.
Follow this link to register --- https://bit.ly/VLPSpringBreak2023
Fee for Service: $35/full day/child
(Sibling discount = $20/full day/sibling)
Event Contact
Village Learning Place
4102352210
Event Details
Repeats every 3 days -- until Thursday April 6, 2023.
4102352210
Location
Add Event To Your Calendar