Film Screenings and Post Discussion Afrofuturism: The Origin Story & Amethyst LoveGodz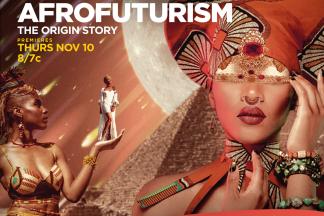 Join the Reginald F. Lewis Museum for a double film feature examining the origins of Afrofuturism and discovering what it takes to keep Black love in the future. A post discussion with filmmakers Alexis Aggrey, Jamal Gray and Denai "B Fly" Nixon will follow.
Smithsonian Channel /Afrofuturism: The Origin Story (58 minutes) – From slave Phillis Wheatley's poetry and Martin R. Delany's alt-history novel "Blake" to Sun Ra's avant-garde music and Marvel's sci-fi blockbuster "Black Panther," the African- American experience has been explored and reimagined for centuries through many artistic mediums. This special brings together some of today's most influential Black musicians, writers, dancers, and theorists, who celebrate and examine the historical and cultural impact of Afrofuturism through deep discussion and electrifying, fantastical performances.
Amethyst LoveGodz (28 minutes) – While on a romantic date in their native land, Kariz Marcel & BlackShesus are captured and sold into the transatlantic slave trade. Four hundred years after their abduction and murder, they resurrect, blind, and in search of their other half. Guided separately by ancestral forces they journey through lifetimes and a foreign land to finally unite in holy matrimony and end the colonizers reign. In the tradition of family, we pray their village leads them safely to the other's love. Will they? Executive produced by BlackShesus and musically scored by Kariz Marcel this breakout silent film will challenge your perception of dialogue, love, and Blackness.
This program is included with Museum Admission.
Event Contact
Terry Taylor
443-263-1829
Event Details
Saturday, April 1, 2023, 1:00 PM – 3:00 PM
443-263-1800
Location
Add Event To Your Calendar