Good Grief! a dance-theater-clown-burlesque performance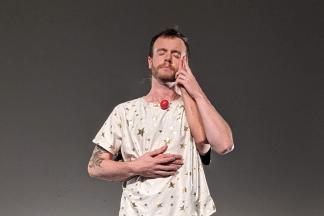 Good Grief! is an up-close-and-(hyper)personal mobilization of the joy, companionship, pleasure, rage, and vulnerability of grief. Tapping into performance as a space of elegiac and erotic ritual--fertile for what some call the 6th stage of grief, meaning-making, Good Grief! is a deeply heartfelt dance-clown-theater-burlesque that lays bare how pain is so close to pleasure, loss so close to love, and grief an absurd mixed up process of clinging tight & letting go. Moving through despair towards a love large enough to carry both grief and celebration in life together as one, Good Grief! invites the jostling loose and letting out of laughter, tears, and anything else that might be shed, lost, or set free!
Created by Lillian Ransijn and Dylan Smythe and directed by Francesca Montanile Lyons, Good Grief! premiered as Rough and Tumble: Pickled Peaches and Herring in the Cannonball Festival of Philadelphia Fringe in Sept. 2022, and is the culmination of five years of performance research. This marks Dylan and Lillian's second appearance at Le Mondo, having previously performed as part of Lily Kind's project Wolfthicket in 2021.
Event Contact
Lillian Ransijn
404-376-5873
Event Details
Repeats daily -- until Saturday April 15, 2023.
4043765873
Location
Add Event To Your Calendar
What Others Are Saying
"I laughed. I cried. I felt joy and loss all at the same time. Thank you for making dance that is lacriox tears and profound laughter. It is extremely potent. Everyone should see this!"