Trilogy: Glass, Paper, Stoneware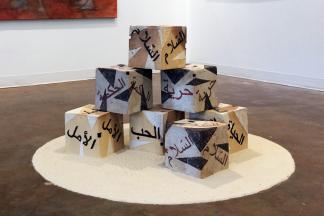 A multi-media exhibit exploring the use of color, texture and form, featuring glass objects by Michele Rubin of Washington, DC; abstract watercolors by Shanti Conlan of Houston, TX; and stoneware by Vidya Vijayasekharan.
Exhibit dates: April 14 - May 27, 2023. Reception: April 21, 6-8pm. Gallery hours: Mon-Fri 10am-8pm, Sat 10am-4pm, Sun 12-4pm.
Pictured: First There Were 7 by Vidya Vijayasekharan (photo courtesy of the artist)
Event Contact
Jules Swearingen
410-313-2787
Event Details
Repeats weekly Monday and Tuesday and Wednesday and Thursday and Friday -- until Friday May 26, 2023.
Repeats weekly Saturday -- until Saturday May 27, 2023.
Repeats weekly Sunday -- until Sunday May 21, 2023.
Free
Location
Add Event To Your Calendar