Public Art in Baltimore: Practice, Curation and Collaboration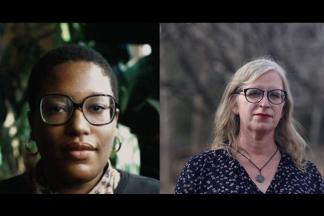 UMBC's Center for Art, Design and Visual Culture (CADVC) presents Teri Henderson, Arts and Culture Editor at Baltimore Beat, who will discuss public art in Baltimore.
During the spring semester of 2023, the CADVC is exploring a possible public art event or video projection series in the amphitheater connected to the center. With the support of a public art planning grant from the Maryland State Arts Council, the CADVC has organized public events related to this inquiry.
Continuing this dialogue, Teri Henderson's discussion will explore the interrelations between public art, curation, and collaboration. In conversation with event facilitator Rahne Alexander, M.F.A. '21, the discussion will span Henderson's work with Baltimore Beat, Current Gallery, WDLY, and the projects connected to her groundbreaking 2021 book Black Collagists.
Admission is free.
The Center for Art, Design and Visual Culture is easy to visit, and free parking is available for this event in Lot 8. Please visit here for directions and parking information.
Event Contact
Event Details
Thursday, March 30, 2023, 6:00 PM – 7:00 PM
Free
Location
Add Event To Your Calendar