Remembering the Work of the Women's Coalition for Change Exhibition Opening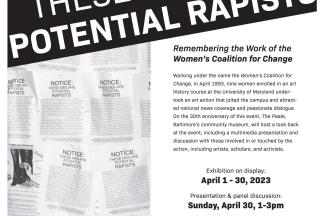 Join us for the opening reception of a powerful new exhibition at The Peale.
Working under the name the Women's Coalition for Change, in April 1993, nine women enrolled in an art history course at the University of Maryland, College Park undertook an art action that jolted the campus and attracted national news coverage and passionate dialogue.
The art action, which involved elements of performance, installation, and postering, came to be known in the media as the "rapist list" because a component of the action involved the publication of every identifiably male name in the campus student directory on flyers underneath the headline "Notice: These Men Are Potential Rapists."
On the 30th anniversary of this event, The Peale will host a look back at the event, including a multimedia presentation and discussion with those involved in or touched by the action, including artists, scholars, and activists. Invited participants include art historian Dr. Kathy O'Dell; School of the Art Institute of Chicago (SAIC) Professor Jefferson Pinder, then a young art student at the university; scholar and educator Dr. Lisa Bernstein; and persons involved in the art action.
Accessibility
ASL interpretation is available upon request for this event. ASL requests must be made three full business days prior to an event.
Wheelchair and Physical Building Access / The Peale has a brand new elevator! The new accessible entrance is on the left side of the building, down Watchouse alley about 100 ft. There is a keypad on the right side of the elevator door. Press the button to call the elevator. There is a door that will swing open automatically once the elevator is called so stand back. Once the door is open you can enter the elevator portico and then step/roll/dance into the elevator. When you come out of the elevator you will be in a short hallway by the bathrooms and the lobby and welcome desk is on the right. There are three floors in the Peale there is a handrail on all flights of stairs. Various and ample forms of seating is available in every room. The historic entrance has five steps and no functioning handrail.
Parking / There is a temporary drop off spot in the "no parking" zone directly in front of the Holiday St. entrance. There are multiple public paid parking lots within a two block radius of The Peale as well as street parking. There are 4 access parking spots on the 200 block of Holiday Street.
Visual Descriptions and more / For additional information about captioning, ASL, services, and more, please visit our Accessibility page.
Event Contact
Kim Domanski
6672221814
Event Details
Saturday, April 1, 2023, 4:00 PM – 7:00 PM
6672221814
Free
Location
Add Event To Your Calendar