Johns Hopkins Racial Justic Concert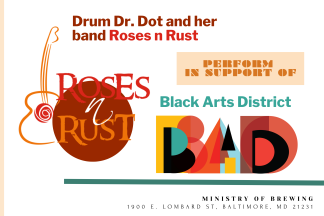 On Friday, April 14th at 7:00 pm Dr. Dorothy Holley ("Drum Dr. Dot") and her band Roses n Rust will bring their infectious mix of soul, roots, and African drumming to the Ministry of Brewing at 1900 E. Lombard St., Baltimore, MD 21231 (in the Upper Fells neighborhood).
Dr. Holley and Roses n Rust will perform in support of the Baltimore-based non-profit Black Arts District, which works to empower Black creatives and revitalize West Baltimore through culture, arts, and entertainment. The performance is produced by Johns Hopkins' Racial Justice Concert Series.
The Racial Justice Concert Series (RJCS), a collaboration among Johns Hopkins students, faculty, and staff, harnesses the power of music to bring awareness to issues of racism in Baltimore, and to support Baltimore organizations that focus on racial justice work. The RJCS features performances by Baltimore musicians and provides a platform for racial justice organizations to educate audiences about their efforts. The RJCS is cooperatively produced and funded by the Johns Hopkins Program in Arts, Humanities, & Health, Johns Hopkins Center for Music and Medicine, and Johns Hopkins International Arts + Mind Lab.
Event Contact
Dorothy Adamson Holley
14434136830
Event Details
Friday, April 14, 2023, 7:00 PM – 8:30 PM
Free
Location
Add Event To Your Calendar