BSO Presents Isata Returns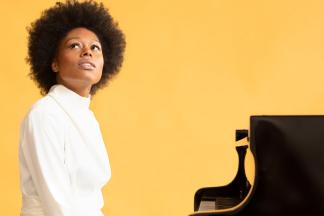 The phenomenon that started when Isata Kanneh-Mason led her siblings onto the stage of Britain's Got Talent (prompting Simon Cowell to declare them "the most talented family in the world") has blossomed into a transformational career for this worldly young pianist. Fresh off her local debut of Clara Schumann's concerto, Kanneh-Mason returns to the Baltimore Symphony Orchestra with the bold showpiece that Prokofiev wrote to delight American audiences. Conductor Kevin John Edusei brings clarity to Brahms' noble Fourth Symphony and Kodály's earthy "Peacock" Variations.
This concert repeats on Sat., June 10 at 8 PM at The Music Center at Strathmore in North Bethesda.
Kids Listen Free – For all Classical and Pops concerts, children ages 7-17 may attend free with the purchase of an adult ticket. Reservations will need to be made in advance, by phone or in person. Limited quantity of free tickets available for each performance, with quantity based on demand. Up to two (2) free children's tickets available per one (1) full price adult ticket, maximum of six (6) free children's tickets allowed per household for each performance. See website for additional information.
Dates, times, repertoire, and locations are accurate as of the posting of the event information. For more information, visit www.BSOmusic.org or contact [email protected] or by phone at 410-783-8000 or toll free 877-276-1444.
Event Contact
Patron Support
410-783-8000
Event Details
Sunday, June 11, 2023, 3:00 PM – 5:00 PM
410-783-8000
Location
Add Event To Your Calendar