First Friday: The Jonathan Gilmore Project – Funktopia Nation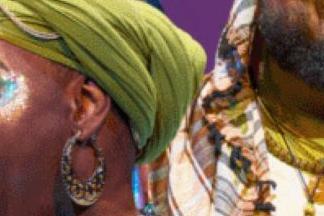 Fridays: Featuring The Jonathan Gilmore Project – Funktopia Nation
Friday, June 2 | 6 pm -8:30 pm. Performance begins at 7 pm. Exhibits Open at 6 pm.
Relax and unwind from your week mingling at the Reginald F. Lewis Museum with local musical performances. Explore our latest one of a kind exhibitions with food and drinks by local chefs from Lexington Market. During our Black Futures, Black Imaginings Music Edition (April – August 2023), experience a wide range of music connected with Black futurism involving the imagination, time and liberation.Come @ 6 pm to view Afro-futurist Manifesto: Blackness Reimagined.
Celebrate Black Music Month at the Lewis getting your P-Funk on with The Jonathan Gilmore Project as they present "Funktopia Nation". Funktopia is part theater, part concert and full of original funk, soul and R&B music that will take music goers on an intergalactic trip. Enjoy a theatrical concert performance featuring a series of songs from hip hop, blues, funk, and disco genres bringing together Jonathan Gilmore and a collective of Baltimore based artists.
Jonathan Gilmore is an award-winning Baltimore native, a multidisciplinary artist that has over 10 years of experience in performance, programming, teaching, and directing. Deemed "Mr. Soul" , he has cut his teeth in musical theater (The Wiz, and Purlie), countless workshops and as a support vocalist for national artists Navasha Daya, Donnie , Musiq Soulchild to name a few. Jonathan is also the leader of two bands. "The Experience" with longtime collaborator Lawrence "Mann" Robinson and the "Jonathan Gilmore Project" whose debut album "Yes Love Music" will be available in 2022. Known for his vocal range and dynamic performances it has been said his shows are "the crossroad of church and a juke joint"
Food and Beverages will be provided by Just Elbows, Tossed Together and Deedles Donuts of Lexington Market and Next Phaze Cafe and Lounge?
Special Admission: Members: $20 and Non- Members $25; Food Prices are Separate Cost.
Event Contact
Joy Hall
443-263-1852
Event Details
Friday, June 2, 2023, 6:00 PM – 8:30 PM
443-263-1800
Location
Add Event To Your Calendar