Tribute celebration for Barbara & Carl Grubbs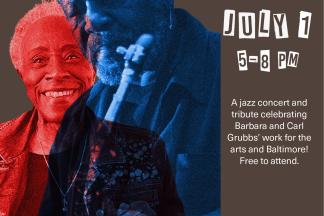 A concert and celebration of Barbara and Carl Grubbs and their work providing arts programming in the Baltimore region since 1997 via their nonprofit Contemporary Arts Inc.
The work of Carl and Barbara has served and supported so many and this project seeks to acknowledge and celebrate them with a public concert and ceremony.
The event will showcase an ensemble with Carl to perform his compositions using several musicians that he and Barbara mentored and employed over the past 25 years.
The event will also celebrate Barbara by assembling a video with remarks from past participants who have been impacted by the programming of Contemporary Arts, Inc.
Where: Outdoors in the greenspace next to the nonprofit Intersection of Change at 1947 Pennsylvania Avenue in the Pennsylvania Avenue Black Arts District. Easily accessible by car (street parking), bus, and the metro.
Cost: Free to attend.
Donations to Carl and Barbara or to Contemporary Arts Inc. are welcomed!
How you can help:
• Attend in person and spread the word to encourage others to attend
• Film a video (90 seconds or less) in landscape mode (horizontal) sharing your appreciation to Barbara Grubbs for her work and email by June 2, 2023 to: [email protected]
• Make a gift directly to Barbara & Carl Grubbs at www.Paypal.me/Grubbs7221 or via check: to PO Box 12764, Baltimore, MD 21217
• Make a donation to support the ongoing work of Contemporary Arts: www.paypal.com/donate?hosted_button_id=X2QH2NNMEAV6L
Partners:
• Maryland State Arts Council
• Baltimore Jazz Alliance
• Greater Baltimore Cultural Alliance
• Pennsylvania Avenue Black Arts & Entertainment District
• Contemporary Arts, Inc.
• Intersection of Change
• Maryland Piano
Rain date: July 2, 5-8pm
Event Contact
Todd Marcus
Event Details
Saturday, July 1, 2023, 5:00 PM – 8:00 PM
Free
Location
Add Event To Your Calendar