Recital and Evensong in Commemoration of Pride Month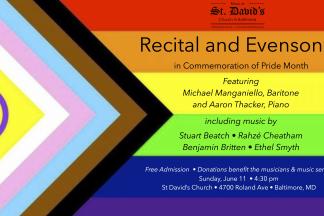 This Sunday, St. David's Baltimore commemorates Pride Month with a Recital and Evensong celebrating music of queer composers and queer experiences.
Join us Sunday, June 11 at 4:30 pm for the finale event of the 2022-2023 Music at St. David's concert season, a Recital and Evensong in commemoration of Pride Month. The event begins with a recital by baritone Michael Manganiello and pianist Aaron Thacker, including "Still Running," a song cycle about queer experience and dedicated to the memory of the 49 queer lives lost at the Pulse Nightclub in 2016.
The Service of Evensong follows at 5:00 pm, featuring music of queer composers, including works of Stuart Beatch, Benjamin Britten, Ethel Smyth, and 2022-2023 Composer-in-Residence Rahzé Cheatham.
The event is free and open to the public, with doors opening at 4:00 pm. A suggested donation of $15 ($10 retirees & students, no obligation for children 12 and under) directly benefits the musicians and the music series.
The event will be livestreamed via Facebook and YouTube at https://www.youtube.com/@stdavidsbaltimore
"L'hiver" (Winter) Music by Charles Koechlin (1867-1950) Performed by baritone Michael Manganiello and pianist Patricia McKewen Amato. Recorded by Noah Tingen and Andrew Bohman at Grace United Methodist Church in December 2021 as part of "Tis the Season: A Holiday Musicale." Poet Théodore Faullin de Banville describes winter in the Bois de Boulogne, a large forested park in the center of Paris: In the Bois de Boulogne in winter, the earth wears her cloak of snow. A thousand irises, laying their traps, pass by like a bright flash. Everything under the gray clear sky sings to us the same scales; in the Bois de Boulogne in winter, the earth wears her cloak of snow. All the whiteness of the flesh passes by in radiant procession; the Antiope of Coreggio dressed in marten and fur in the Bois de Boulogne in winter.
Event Contact
Douglas Buchanan
4104670476
Event Details
Sunday, June 11, 2023, 4:30 PM – 6:00 PM
Free
Location
Add Event To Your Calendar