Atomic Goal Setting for Microbusinesses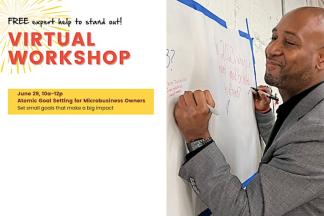 Would a strategy to accomplish your remaining 2023 business goals be helpful? Join us on Thursday, June 29th with Empower Program Manager Bakari Jones for Atomic Goal Setting!
Atomic (or micro) goals are small, achievable steps that can help us reach our larger goals. They are a great way to break down a big project into smaller, more manageable tasks. In this workshop, we will explore the concept of micro goals and how they can help us reach our objectives.
During the workshop, we will begin by discussing the benefits of setting micro goals and review some of the tips and tricks outlined in James Clear's book Atomic Habits. We will then learn how to identify our bigger goals and break them down into smaller, achievable steps. We will also discuss the importance of tracking progress and celebrating successes along the way.
Through interactive exercises and group discussions, participants will have the opportunity to practice setting micro goals for their business or personal projects. We will also explore different strategies for staying motivated and overcoming obstacles that may arise.
By the end of the workshop, you will:
Gain a better understanding of how to set and achieve micro goals
Leave with practical tools and techniques to apply to your own lives
Find a newfound sense of confidence in your ability to make progress towards your goals
Register today and level up your business!
Event Contact
My-Azia
4439601363
Event Details
Thursday, June 29, 2023, 10:00 AM – 12:00 PM
Free
Location
Add Event To Your Calendar