Alma Brazil: Iuri Bittar & Almir Côrtes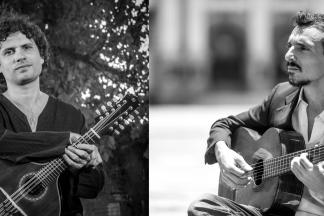 Iuri Bittar (guitar) and Almir Côrtes (bandolim/mandolin) are recognized for their masterful performance, often invited for concerts and workshops within and beyond Brazil. Alma Brazil's repertoire brings the best of Brazilian instrumental music through choros, sambas and bossa nova, many composed by Brazil's foremost writers: including Pixinguinha, Jacob do Bandolim, Baden Powell, and Tom Jobim. Duo Choro Brazil enchants audiences with talent, swing, and virtuous improvisation!
Video: https://fb.watch/lhuayK_Nka/
Before you see Iuri Bittar & Almir Côrtes LIVE at Creative Alliance, enjoy their quartet performance of Pixinguinha's maxixe masterpiece, "Seu Lourenço no Vinho," written in 1948. Iuri Bittar and Almir Côrtes's group, Quarteto Urubatan, specializes in choro circles (rodas), live performances and recordings, as well as teaching projects and academic research.
Event Contact
Ceylon Mitchell
9072239519
Event Details
Saturday, June 24, 2023, 8:00 PM – 9:30 PM
410-276-1651
Location
Add Event To Your Calendar