Andrzej Grygier Donor Concert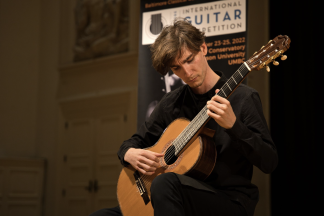 FREE CONCERT FOR DONORS with the amazing Andrzej Grygier, winner of the Baltimore International Guitar Competition.
====
This concert is our way to say THANK YOU to those who support us!
—
The hour-long concert will take place at the Peabody Conservatory on Saturday, September 30 at 6:00 PM.
===
DONORS to the BCGS for the 2023-2024 concert season can request up to two FREE tickets for the concert. Tickets will be given out on a first-come, first-served basis.
===
Please email us to request tickets. You can also request your donor ticket(s) on the check-out page when you renew your support for the 2023-2024 season.
Event Contact
Asgerdur Sigurdardottir
4432962247
Event Details
Saturday, September 30, 2023, 6:00 PM – 8:00 PM
Prices:
$Free for Donors
–
$
Location
Add Event To Your Calendar