Concert with Fauré Quartett, piano quartet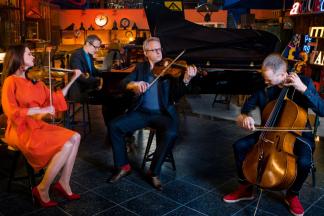 Ignite your senses with the Fauré Quartett at the Candlelight Concert Society's 51st season opener! Named in honor of the French composer Gabriel Fauré, the group is internationally acclaimed as one of the world's leading piano quartets. Known both for their top- notch recordings of classical gems and exciting pop hits, this German ensemble has captured the hearts of audiences worldwide. Revel in their captivating arrangements of Fauré's art songs, intertwined with rarely performed piano quartet gems by Fauré and Brahms.
Narration for this concert will be provided by WBJC's radio host, Jonathan Palevsky.
Event Contact
Candlelight Concert Society
410-997-2324
Event Details
Sunday, October 1, 2023, 4:00 PM – 6:00 PM
410-997-2324
Location
Add Event To Your Calendar