Animania: Joanna Priestley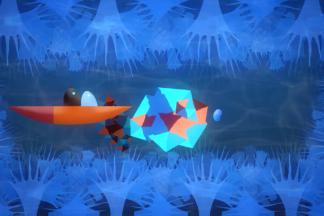 UMBC's Center for Innovation, Research and Creativity in the Arts (CIRCA) presents animator and filmmaker Joanna Priestley in a retrospective screening of her award winning short works, with introductions and explanations of techniques by the artist.
The program features:
Utopia Parkway (1997, 5 min.)
Dew Line (2005, 4.5 min.)
Eye Liner (2011, 4 min.)
Bottle Neck (2015, 4 min.)
Jung & Restless (2022, 6 min.) surround mix
Voices (1985, 4 min.)
She-Bop (1988, 8 min.)
All My Relations (1990, 5 min.)
Missed Aches (2009, 4 min.)
Joanna Priestley has directed, animated and produced 32 award winning films and the iOS app Clam Bake. Her animated feature, North of Blue, won Best Feature Film at the Los Angeles Animation Festival and Best Experimental Film at the Indie Film Awards in Amsterdam. Priestley's work maintains a high level of porosity between serious exploration of boundaries and intuitive whimsy, and she is dedicated to experimentation in technique, theme, and content. She has had retrospectives at the British Film Institute (London), Museum of Modern Art (New York), Center for Contemporary Art (Warsaw, Poland), American Cinematheque (Los Angeles), Hiroshima International Animation Festival (Japan), Jeonju International Film Festival (South Korea), Animation Masters Summit (Trivandrum, India) and Stuttgart International Festival of Animated Film (Germany). She lives next to the forest in Portland, Oregon with her husband, production designer Paul Harrod.
Free admission, and lunch will be provided. Reservation information will be announced.
CIRCA is committed to making its events accessible to everyone. Please send your request for specific accommodations to [email protected].
The Music Box is easy to visit, with plenty of free parking. Please visit here for directions and parking information.
Event Contact
Event Details
Friday, October 6, 2023, 12:00 PM – 1:00 PM
Free
Location
Add Event To Your Calendar