Brand Clinics for Microbusiness Owners: Crafting Your Visual Identity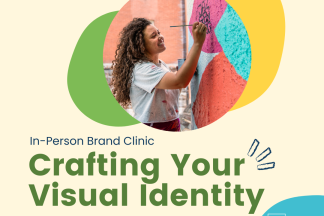 Presenter: Jaime Rafael Rivera Pagan, BrandGoat84
General description:
Are you a Micro business owner looking to take your brand to the next level? Join us for an immersive and interactive Branding Clinic designed to empower and guide you in creating a strong, authentic, and impactful brand. In this workshop, you will gain the essential knowledge and practical tools needed to establish a compelling brand identity that resonates with your target audience, differentiates you from competitors, and drives business growth.
What we'll cover:
Unleash the visual power of your brand! In this session, we will delve into the world of visual branding elements. From logos and color schemes to typography and imagery, you'll learn how to design a visually cohesive and memorable brand identity. Discover the art of storytelling through visuals and gain insights into effective design strategies. By the end of this workshop, you'll have a visual brand style guide that reflects your business's personality and appeals to your target audience.
Why attend?
Gain a deep understanding of branding principles and techniques tailored specifically for microbusiness owners.
Acquire practical tools and strategies to develop a powerful brand strategy.
Learn how to create a visually appealing and consistent brand identity.
Discover the secrets to crafting compelling brand messages that resonate with your target audience.
Network and exchange insights with fellow small business owners, creating potential collaboration opportunities.
If you're a microbusiness owner (you have 10 employees or less), this workshop is an invaluable opportunity to transform your business and establish a remarkable brand presence. Join us on this exciting journey of branding exploration and leave with the knowledge and confidence to make a lasting impact in your industry.
Event details:
Free to attend
Free lunch for the first 25 participants to arrive (chicken, vegetarian, and vegan options will be available)
Complimentary coffee, tea, and snacks will be available for everyone
Event Contact
My-Azia Johnson
4439601363
Event Details
Thursday, September 21, 2023, 11:00 AM – 1:00 PM
Free
Location
Add Event To Your Calendar