Comedy Beasts at Harbor East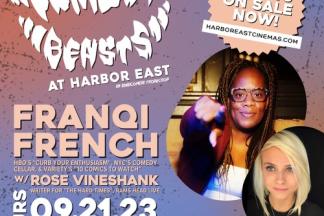 COMEDY BEASTS AT HARBOR EAST, is back September 21 with a must-see, larger than life, you-will-hate-yourself-if-you-miss-this headliner: FRANQI FRENCH.
Franqi French is the authentic comedic voice we need! Ms. French holds nothing back when telling the vibrant true stories from her life.
In 2020, Variety Magazine named her one of the 10 comics to watch and she's currently the reigning champ of NBC's national stand up comedy competition. She's a regular at the world famous Comedy Cellar in New York, and has headlined / featured in festivals across the country like: Black Woman In Comedy Laff Fest, JFL, Broken Drift Comedy Fest, Sixth City Comedy Fest, Bentzen Ball at The Kennedy Center in DC and more!
You can catch Ms. French on Season 11 of Curb Your Enthusiasm AND season 2 of PAUSE w/ Sam Jay both on HBO!
FRANQI FRENCH will be joined by feature comedian, Baltimore native ROSE VINESHANK.
Rose is a writer for satirical online publication "The Hard Times," Baltimore comedian and out lesbian. She regularly performs at Magooby's joke house where she has opened for Stormy Daniels, Damon Wayans, and many more.
Your host & producer is comedian and writer/performer of the nationally touring solo show "LADY ADHD": Blaire Postman.
"Comedy Beasts" is also proud to support Community Partner, the Baltimore Humane Society. You know who needs unconditional love? ALL OF US!! If you can't adopt you can donate or do something else super cool, like become an OFFICIAL KITTEN SOCIALIZER for BHS. That's a gig where your job is just PLAYING WITH KITTENS.
Can you eat movie popcorn and drink cocktails while laughing this hard? There's only one way to find out. Join us Thursday, September 21, 7pm at the Presidential Lounge – Harbor East Cinema's live entertainment space, right in the heart of everything cool-to-do in Harbor East.
Whaddya waiting for?! GET. THOSE. TICKETS!
And join us every month to see super-pro, genuinely hilarious, nationally touring comedians who will bring the fire to Baltimore.
MORE UPCOMING "COMEDY BEASTS" SHOW AT HARBOR EAST:
TH, OCT. 19: Headliner JOHN CONROY from "Laughs on FOX," the Kennedy Center, DC Improv & The Laugh Factory in Los Angeles.
TH, NOV. 16: Headliner UMAR KHAN from the Kennedy Center, the Warner Theater, and the 9:30 Club
Event Contact
stephanie
Event Details
Thursday, September 21, 2023, 7:00 PM – 9:00 PM
Location
Add Event To Your Calendar