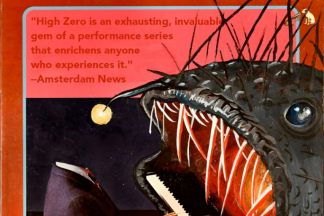 High Zero Festival is a dynamic music festival that unites musicians from around the world, resulting in captivating performances that embrace the extraordinary sonic adventures born from unique collaborations.
That sounds really formal. Doesn't it? This festival is a seriously weird endeavor, and the fact that it's persisted this long means its so amazingly special.
DON'T MISS IT!
All prices include admission for one night of the festival. Each night gives you four group performances from a constantly changing roster of performers and one solo performance that redefines musical proficiency.
Event Contact
Event Details
Thursday, September 21, 2023, 8:30 PM – 10:30 PM
Friday, September 22, 2023, 8:30 PM – 10:30 PM
Saturday, September 23, 2023, 8:30 PM – 10:30 PM
Sunday, September 24, 2023, 8:30 PM – 10:30 PM
Location
Add Event To Your Calendar