States of Becoming — Opening Reception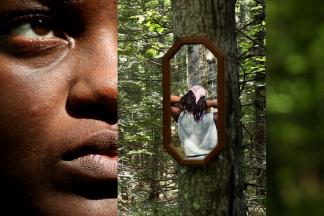 UMBC's Center for Art, Design and Visual Culture presents the Opening Reception for States of Becoming, an exhibition curated by Fitsum Shebeshe and produced by Independent Curators International (ICI).
A 6 p.m. panel discussion will feature Chukwudumebi Gabriel Amadi-Emina, Elshafei Dafalla, and Helina Metaferia, moderated by Maleke Glee, director of Stable Gallery in Washington, D.C. Exhibition curator Fitsum Shebeshe will provide an introduction.
Chukwudumebi Gabriel Amadi-Emina is a Nigerian-American contemporary photographic and video artist, currently residing in the Baltimore area. He received his BFA in photography and graphic design from Armstrong State University in Savannah, Georgia, his MFA in photographic and electronic media from the Maryland Institute College of Art. Amadi-Emina's artistic journey began when he migrated to the United States in 2009 at the age of 15. While navigating different spaces and institutions, observing a variety of interactions, and participating in them, he began to notice the disparities in realities between the life he lived in Nigeria and his new life in the U.S.
Elshafei Dafalla is a sculptor, photographer, painter, and installation artist with aspecial interest in sound. His work is noted for its political engagement with different world cultures and has been celebrated for its capacity to create solidarity among communities and peoples across political, cultural, and racial differences.
Helina Metaferia is an interdisciplinary artist working across collage, assemblage, video, performance, and social engagement. Her work interrogates the body's relationship to sites, especially as it relates to notions of identity and citizenship.Metaferia received her MFA from Tufts University's School of the Museum of Fine Arts and attended the Skowhegan School of Painting and Sculpture. Recent solo and group exhibitions include Museum of African Diaspora, San Francisco, CA; Museum of Contemporary Art Detroit, Detroit, MI; New York University's The Gallatin Galleries, New York, NY; Smack Mellon, Brooklyn, NY; Modern Art Museum Gebre Kristos Desta Centre, Addis Ababa, Ethiopia; Alabama Contemporary Art Center, Mobile, AL; and others.
Maleke Glee is writer, cultural worker and curator based in Washington, D.C. Glee is the Inaugural Director of STABLE Arts, an artist studio and gallery. Before joining STABLE, he has held positions for the Studio Museum in Harlem, Prince George's African American Museum; and has produced exhibitions and programming with the Museum of Contemporary African Diasporan Arts, No Longer Empty, DNA Works, Red Bull Arts, Sugarcane Magazine, TENTH Zine, John F. Kennedy Center, and More. He has lectured internationally on Black contemporary art and vernacular cultures.
States of Becoming examines the dynamic forces of relocation, resettling, and assimilation that shape the artistic practices of a group of 17 contemporary African artists who have lived and worked in the United States within the last three decades, and informs the discourse on identity construction within the African Diaspora.
Artists featured in the exhibition include Gabriel C. Amadi-Emina, Kearra Amaya Gopee, Kibrom Araya, Nadia Ayari, Vamba Bility, Elshafei Dafalla, Masimba Hwati, Chido Johnson, Miatta Kawinzi, Dora King, Helina Metaferia, Nontsikelelo Mutiti, Yvonne Osei, Kern Samuel, Amare Selfu, Tariku Shiferaw, and Yacine Tilala Fall.
States of Becoming is a traveling exhibition curated by Fitsum Shebeshe and produced by Independent Curators International (ICI), New York. Lead funding is provided by the Hartfield Foundation as part of an initiative to support ICI's commitment to new curatorial voices who will shape the future of the field, and ICI's Curatorial Intensive alumni as they move through the stages of their career. States of Becoming is made possible with the generous support of ICI's Board of Trustees and International Forum. Crozier Fine Arts is the Preferred Art Logistics Partner. Exhibition graphics by Untitled Agency, Marrakech.
Visitor Information
Admission is free. Parking for the Opening Reception is free, and nearby the CADVC. Please visit here for directions and parking information.
Independent Curators International
Independent Curators International (ICI) supports the work of curators to help create stronger art communities through experimentation, collaboration, and international engagement. Curators are arts community leaders and organizers who champion artistic practice, build essential infrastructures and institutions, and generate public engagement with art. Our collaborative programs connect curators across generations and across social political and cultural borders. They form an international framework for sharing knowledge and resources and for promoting cultural exchange, access to art, and public awareness of the curator's role.
Image: Kearra Amaya Gopee, video still from Artifact #3: Terra Nullius, 2019. Courtesy the artist.
Event Contact
Event Details
Thursday, September 21, 2023, 5:30 PM – 7:30 PM
Free
Location
Add Event To Your Calendar