Artist Talk with Kirby Griffin, Whitney Frazier and the Guardians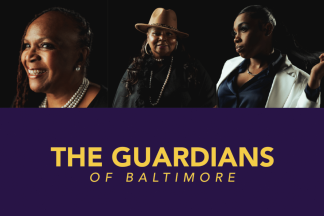 Hear from the artists and the Guardians about how the Guardians project started, discuss the creative aspects of working collectively on a community driven, public art project, and learn about the impacts of the project on the Guardians and their neighborhood initiatives. This event will be in-person and online. Please register to receive a Zoom link two days before the event.
The Guardians is a photo documentary and storytelling project that celebrates the unrecognized community work of Black female leaders from across Baltimore City neighborhoods. By uplifting their stories and experiences through recorded interviews and large-scale photographs, we honor how the union of art and activism can make real, lasting change that can help us see realities and (re)shape culture. The Guardians is a platform for women who spend their lives fighting for better, more equitable communities.
Event Contact
Event Details
Thursday, September 21, 2023, 5:00 PM – 7:00 PM
Free
Location
Add Event To Your Calendar