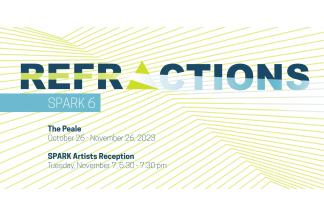 Spark 6: Refractions features the work of UMBC and Towson University faculty, recent graduates, and current students in the historic galleries of The Peale in Baltimore City. The exhibition opens on October 26 and continues through November 26.
The title of the exhibition references a term from physics that describes the change in direction of a wave as it passes from one transparent substance into another. It's a phenomenon most commonly observed when a light wave bends or changes appearance when it passes through a lens or a prism. Each of the artists in this exhibition serves as an apparatus of refraction, focusing, magnifying, or redirecting our attention and perspective in engaging and surprising ways.
Featured artists include Ada Pinkston, Ahlam Khamis, Amanda Burnham, Andrew Awanda, Anna Kroll and Chloë Engel, Cathy C. Cook and Stefanie Koseff, Corrie Francis Parks and Maksym Prykhodko, Fahmida Hossain, Jenee Mateer, Jenn Figg and Matthew McCormack, Jinyoung Koh, Jules Rosskam, Lauren Castellana, Nahid Tootoonchi, Phil Davis, Sarah G. Sharp, Stephen Bradley, and Treyvon Nolen.
Special Events
On Thursday, November 2, Anna Kroll and Chloë Engel present Inside the Room. "The Space is a Body and You Are In It" is a collaborative world-building (and world-falling apart) game. Developed during the early days of the pandemic when dancing together only became possible through speech, the game engages bodily awareness, the (im)possibility of a shared imagination, and coping with inevitable disaster. In this intimate performance, audience members are invited to watch Kroll and Engel play the game, building an imaginary space and watching it fall apart.
An Artist Reception will be held on Tuesday, November 7, from 5:30 to 7:30 p.m. Please visit here for additional information and to RSVP.
From November 7 through 12, a special addition to SPARK — Wavefront — features the work of Towson University and UMBC students and alumni Allanis Silva, Audrey Le Ballentine, Ayanna Phillips, Gabrielle Moore, Kellan Marriot, Kristen Landsman, Susie Park, and more artists to be announced. This work will be on display in the Moses Williams Center (on the first floor of The Peale) during the November 7 reception, and during regular gallery hours November 9 through 12.
On November 10 and 17, artist Phil Davis curates Projections at The Peale, an illumination of The Peale's second-floor galleries with video projections viewed from outside. In 1816, artist and innovator Rembrandt Peale created a breathtaking sight in his museum building in Baltimore: Using gas and a "Magic Ring of Fire," Peale created a glow inside the building that was strikingly visible from the street outside. It has been said that people would stand on Holliday Street in front of the Peale Museum just to marvel at the brightness of the light coming from its windows — an unprecedented sight in a world of candles and oil lamps.
Once again video and animation works by UMBC and Towson University artists will light up The Peale! Gallery hours will be extended on these evenings to 9 p.m. (with the exception of the front gallery on the second floor which will be closed for the projections), and light refreshments served.
The video program will include short video and animation works on a loop. Program details and featured artists to be announced.
The first SPARK exhibition coincided with the LightCity festival in 2017 and featured the work of UMBC faculty and MFA students. In 2018, UMBC and Towson University began our ongoing collaboration to present the exhibition in various venues. Since its inception, SPARK has been possible through the support of PNC.
Admission is free.
The Peale is open Thursday and Friday from 3 p.m. to 7 p.m., and Saturday and Sunday from 10 a.m. to 4 p.m. For directions, parking and accessibility information, please visit The Peale.
Event Contact
Event Details
Thursday, October 26, 2023, 3:00 PM – 7:00 PM
Friday, October 27, 2023, 3:00 PM – 7:00 PM
Saturday, October 28, 2023, 10:00 AM – 4:00 PM
Sunday, October 29, 2023, 10:00 AM – 4:00 PM
Thursday, November 2, 2023, 3:00 PM – 7:00 PM
Friday, November 3, 2023, 3:00 PM – 7:00 PM
Saturday, November 4, 2023, 10:00 AM – 4:00 PM
Sunday, November 5, 2023, 10:00 AM – 4:00 PM
Thursday, November 9, 2023, 3:00 PM – 7:00 PM
Friday, November 10, 2023, 3:00 PM – 7:00 PM
Saturday, November 11, 2023, 10:00 AM – 4:00 PM
Sunday, November 12, 2023, 10:00 AM – 4:00 PM
Thursday, November 16, 2023, 3:00 PM – 7:00 PM
Friday, November 17, 2023, 3:00 PM – 7:00 PM
Saturday, November 18, 2023, 10:00 AM – 4:00 PM
Sunday, November 19, 2023, 10:00 AM – 4:00 PM
Friday, November 24, 2023, 3:00 PM – 7:00 PM
Saturday, November 25, 2023, 10:00 AM – 4:00 PM
Sunday, November 26, 2023, 10:00 AM – 4:00 PM
Free
Location
Add Event To Your Calendar