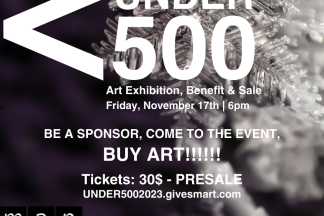 UNDER $500 Benefit Exhibition and Sale: Friday, November 17 | 6 to 10 pm | Tickets $30
Purchase UNDER $500 Tickets HERE
Last Chance (physical): Saturday, November 18 | 12 to 4 pm
Virtual Exhibition & Sale: Saturday, November 18, 10 am – Black Friday, November 24, 12 am
To view the virtual exhibition click HERE | Free | Live on Saturday, November 18 @ 10 am
REGISTER HERE
Deck the walls by giving the gift of art this holiday season! Maryland Art Place (MAP) is excited to host its 11th annual UNDER $500 affordable art sale where artwork is sold on a first-come-first-served basis right off our gallery walls! UNDER $500 promotes the purchase of artwork by artists in the Maryland region. Guests can expect to mingle with other artists, collectors, patrons, and general art enthusiasts at the event. Take your purchases home with you the night of the event. Gift wrapping will be available on-site!
The opening night sale (physical) will take place Friday, November 17 from 6 pm to 10 pm (ticketed) and then again on Saturday, November 18, 2023 from noon - 4pm (free). Saturday is a 'last chance' opportunity to snag any artworks that remain on MAP's walls. Tickets are $30 for opening night and can be purchased at the door or in advance at UNDER5002023.givesmart.com.
This year's theme is WINTER WONDERLAND! Please come in your whitest attire! MAP will have holiday trees on display. Enjoy a cheerful atmosphere with an open bar, light fare and some holly jolly tunes by DJ Amsies and Drag Queens (TBA)!
A virtual sale and exhibition will also take place and will be featured online HERE from Saturday, November 18 at 10 am – Black Friday, November 24 at MIDNIGHT. Artwork will NOT be available to view online until November 18 at 10 am. Be sure to register in advance in the interim! Registration is free.
Virtual Buyers Sales & Pick Up: Sold artworks from the virtual auction need to be delivered by the artist to MAP after the sale closes November 24th. MAP is aiming for all sold work to be on site for Buyer pick up by Tuesday December 5th just in time for the holidays. Buyers will be notified once your purchase is secured and onsite at MAP. BUYERS-Please make sure your artwork is at MAP before coming to pick it up. The pickup window will be Dec 5 – Dec 9, from 11am – 4 pm or by appointment. All artwork will be wrapped and ready to fulfill its destiny as the perfect holiday gift! Call #410.244.1959 or email [email protected] to make sure your work is on site prior to coming to MAP.
Event Contact
Caitlin
410.2441959
Event Details
Saturday, November 18, 2023, 12:00 AM – Friday, November 24, 2023, 12:00 AM
Location
Add Event To Your Calendar