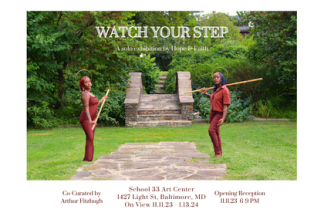 Step into a transformative journey with WATCH YOUR STEP, an exhibition and community programming of events featuring the vibrant works of twin artists Hope & Faith McCorkle. Transcending the boundaries of time, the duo guides us through a profound exploration of the intricate relationship between past and present. This immersive experience is an ode to the conscious decisions we make, paying homage to the lineage of ancestors who have paved the way. As we walk through this intentional exhibit, the souls of our feet meet the stories embedded in lineage, igniting moments of reflection and intergenerational healing.
WATCH YOUR STEP highlights the beauty of togetherness and the power of storytelling within the Black community. Through community elevation, we call attention to the importance of spiritual awareness and commitment to the path of continued progress for our youth, understanding that each step we take leaves an unforgettable mark on the legacy of our collective journey.
WATCH YOUR STEP community events
Opening Celebration!
Saturday, November 11, 2023 - 6-9 pm
Activating performance by MovaKween @ 7:30 pm
Artist Talk & Community Discussion
Saturday, November 18, 2023 - 6-8 pm
Healing Through Our Histories
Sunday, December 3rd, 2023 - 2:30-4 pm
VIRTUAL Zoom Discussion
https://www.eventbrite.com/e/watch-your-step-healing-through-our-histori...
Freeing Families: Intergenerational Healing Through Art Workshop
Thursday, December 14, 2023 - 4-6 pm
The Family Function: Closing Celebration and Family Dinner
Saturday, January 13, 2024 - 6-9 pm
Event Contact
Hope & Faith McCorkle
Event Details
Saturday, November 11, 2023, 6:00 PM – Saturday, January 13, 2024, 9:00 PM
Repeats weekly Thursday and Saturday -- until Saturday January 13, 2024.
Free
Location
Add Event To Your Calendar