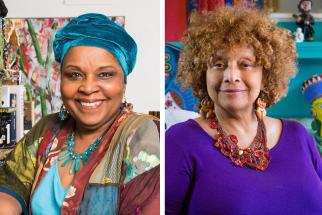 Free Admission
Join matriarchs of Baltimore's art community Joyce J. Scott and Oletha DeVane for a lively conversation with renowned art historians Leslie King Hammond and Lowery Stokes Sims.
Learn more about the prolific bodies of work of Scott and DeVane.
Arrive early to see Hitching Their Dreams to Untamed Stars and Oletha DeVane: Traces of the Spirit from 5–6:30 p.m. Visit the BMA Shop for a copy of Traces of the Spirit exhibition catalog, featuring vibrant images of DeVane's spirit sculptures with essays by Hammond and Sims.