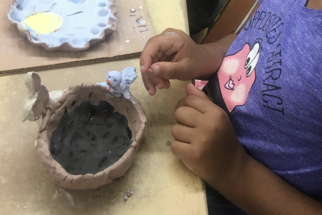 Wednesday, December 13, 2023, 3:30 PM – 5:30 PM
Repeats weekly Wednesday -- until Wed Dec 13 2023 -- except Thu Nov 23 2023.
Baltimore Clayworks
This is a 12-week afternoon class for ages to 9 – 12. Students will focus on building skill, craftsmanship, and discuss technique to build deeper relationships with tools and materials. They will explore texture, color and shape while building technical skills as they create a wide variety of wonderful creations.Each class session will introduce a new technique and present a new, exciting challenge. All works will be created in red earthenware, decorated with vibrant AMACO velvet underglaze and glaze fired to cone 04. Class includes all materials and firing.