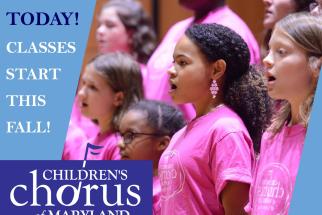 Saturday, July 9, 2022, 3:00 PM – 6:00 PM
Repeats weekly Saturday -- until Mon Sep 05 2022.
Children's Chorus of Maryland & School of Music
Audition sign-ups are now live online! Children ages 5 ½ to 12 are invited to audition for the 2022-2023 Conservatory Season starting in September. Combining nurturing play-based learning with ten levels of educational achievement, CCM's School of Music provides a solid musical foundation that students carry throughout their lives. Young choristers attend small-group music classes led by highly-trained instructors, all of whom hold master's degrees in music education.