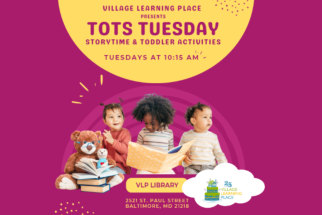 Tuesday, December 12, 2023, 10:15 AM – 11:15 AM
Repeats weekly Tuesday -- until Tue Dec 26 2023.
Village Learning Place
Free
At VLP, we honor lifelong learning and understand the importance of starting early and making it fun. We hope you join us for our Tots Tuesday Storytime for toddlers & preschoolers! Tots Tuesday Storytime is an interactive storytime for children ages 2–4 years old and their parents/caregivers.
Tots Tuesday Storytime has just gotten back to being in-person. Check out our past, virtual Tots Tuesday videos on our YouTube channel!
For any questions or concerns please email: [email protected]