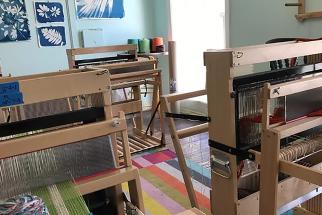 Friday, September 30, 2022, 6:00 PM – 9:00 PM
Repeats weekly Thursday -- until Fri Sep 30 2022. Also includes Fri Aug 12 2022, Fri Aug 19 2022, Thu Sep 22 2022, Fri Sep 23 2022, Thu Sep 29 2022, Fri Sep 30 2022.
Lovelyarns
Let Noelani guide you on your fiber journey to help make your dream project become a reality in this super fun weaving workshop! You will learn all the basics of weaving on a floor loom from soup to nuts! All materials are included in this multi-session workshop. Bring a snack, beverage, and a sense of adventure! If you have some ideas about what you want to make, bring those along too!