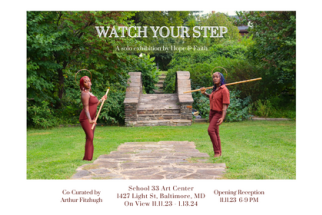 Saturday, November 11, 2023, 6:00 PM – Saturday, January 13, 2024, 9:00 PM
Repeats weekly Thursday and Saturday -- until Sat Jan 13 2024.
School 33 Art Center
Free
Step into a transformative journey with WATCH YOUR STEP, an exhibition and community programming of events featuring the vibrant works of twin artists Hope & Faith McCorkle. Transcending the boundaries of time, the duo guides us through a profound exploration of the intricate relationship between past and present. This immersive experience is an ode to the conscious decisions we make, paying homage to the lineage of ancestors who have paved the way.