Activism and Art: The Catonsville Nine, 50 Years Later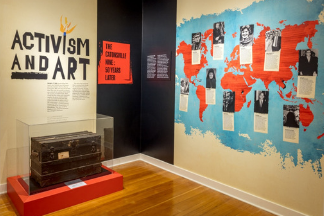 In 1968, nine Catholic peace activists protested the Vietnam War in a fiery blaze in Catonsville, Maryland. "Activism and Art: the Catonsville Nine, 50 Years Later" examines one of the most iconic and written-about acts of political protest in 20th century American history. Through art created by Catonsville Nine activist Tom Lewis and elements of the documentary "Hit & Stay: a history of faith and resistance," this exhibit explores the motivations and considers the consequences of civil disobedience, and contextualizes this protest in our present turbulent political climate.
Event Contact
Jennifer Michael
410-685-3750
Event Details
Repeats weekly Sunday and Wednesday and Thursday and Friday and Saturday -- until Wednesday May 1, 2019.
410-685-3750
Location
Add Event To Your Calendar