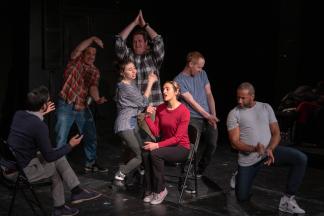 Never taken an improv class before? Well now is your chance to try it out with experienced BIG instructors!
This introductory workshop is designed to give potential students an opportunity to experience what a class is like before committing to a full course.

Through simple, fun and supportive games, participants will explore basic concepts like playfulness, listening and agreement – all in a safe and comfortable group setting geared specifically toward those who are new to improv.
*As an added bonus, workshop participants will receive a free ticket to the Sunday evening improv show, directly following the workshop!*
Space is limited, so please sign up ahead of time to secure your spot. For adults, 18+ years old.
ABOUT BALTIMORE IMPROV GROUP
Baltimore Improv Group (BIG) serves as the city's leading non-profit improv comedy venue. BIG began in 2004 and now entertains with over 120 shows each year. With an annual audience of over 5,000 people, over 100 regular performers present audiences with shows every night of the week. As part of Young Audiences of Maryland (YAMD), BIG performs in assemblies and teaching residencies in Maryland schools.
The BIG Theater opened in October 2017 in Station North. The theater offers 3,000 square feet of space for shows; classes and workshops for adults, kids and teens; a podcast studio. BIG shows include improv comedy, stand-up, sketch, and more.
WJZ-13: Coffee with Baltimore Improv Group
Event Contact
​(888) 745-8393
Event Details
Repeats weekly Sunday -- until Sunday December 29, 2019.
​(888) 745-8393
Location
Add Event To Your Calendar
What Others Are Saying
"Had a FANTASTIC time in the workshop and the show afterwards had my cheeks hurting for a couple days afterward. My first experience with improv live and I'm hooked! Great staff, and some profound life lessons can be found at this studio. Casually Dope is incredibly funny and I can't wait to go back for more!" Nateé Johnson (via Google reviews)