Third Annual Baltimore Piano Marathon - The Spire Series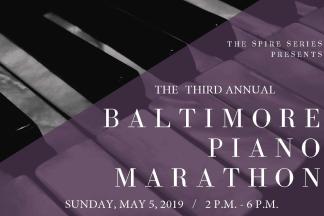 Featuring eight superb solo pianists from the Greater Baltimore/Washington area with a new artist taking the stage every thirty minutes.
On Sunday, May 5, 2019 at 2:00 p.m., The Spire Series is thrilled to be presenting the Third Annual Baltimore Piano Marathon Concert in the First & Franklin Presbyterian Church sanctuary. This event will be hosted by beloved Maryland classical radio personality - Mark Malinowski of WBJC. A new artist will take the stage every thirty minutes, with Mark introducing each performer and offering insights into the music. Come for one or stay for all of it!
Spire Series events are $20, however we are offering Admission to this event at Half Price: $10 per person at the door or tickets can be purchased online.
The Artists - Programs to be announced:
2:00 PM: Lura Johnson
Steinway Artist; Principal Pianist of Delaware Symphony and Baltimore Symphony Orchestras.
Excerpts from The Art of Prelude and Fugue, a first-of-its-kind compilation by Lura Johnson of Bach's entire Well-Tempered Clavier, Books I and II with the complete Preludes and Fugues of Shostakovich, Op. 87
Prelude and Fugue in F Minor, Op. 87, No. 18 Dmitri Shostakovich
Prelude and Fugue in B Major, BWV 892 J.S. Bach
Prelude and Fugue in B Minor, BWV 893 J.S. Bach
Prelude and Fugue in D Minor, Op. 87, No. 24 Dmitri Shostakovich
2:30 PM: Min Young Park
Pursuing a Doctoral Music of Arts with full Scholarship Award at The Peabody Institute of Johns Hopkins University, studying with Yong Hi Moon.
Ludwig van Beethoven Piano Sonata No. 32 in C minor, Op. 111
I. Maestoso - Allegro con brio ed appassionato
II. Arietta - Adagio molto semplice e cantabile
3:00 PM: Raymond Jackson
Juilliard trained concert pianist (DMA) of international renown. Professor of Music, Howard University, Washington, DC.
Franz Schubert: Impromptu in G-flat, Op. 90
John Childs: Choreographic Impressions
Frederic Chopin: Barcarolle
3:30 PM: Alexei Ulitin
Bachelor of Music from Rowan University, Master of Music from the National Music Academy of Ukraine (Kiev), and Doctor of Musical Arts from the University of Maryland. Piano Faculty at Rowan University.
Brahms: 3 Fantasies from Op. 116
Op. 116 no. 1 Capriccio in D minor
Op. 116 no. 2 Intermezzo in A minor
Op. 116 no. 7 Capriccio in D minor
Beethoven: Sonata Op. 109 in E major
4:00 PM: Matthew Palumbo
First prize, Chopin Foundation of the U.S. International Competition; Faculty, International School of Music, Bethesda, Maryland; Peabody Conservatory Alumnus.
Samuel Barber: Piano Sonata, Op. 26
4:30 PM: Jun Luke Foster
Top honors in the Marian Garcia International Piano Competition, the Jacob Flier International Competition, and the New York Grand Prix International Competition. Pursuing a Doctor of Musical Arts in the studio of Boris Slutsky at the Peabody Conservatory, where he also works as a faculty assistant.
Frederic Chopin: Polonaise Fantasie in A Flat Major, Opus 61
Ignacy Paderewski: Melodie, Opus 8 No. 3
Chopin: Ballade in F Minor, Opus 52
5:00 PM: Marianna Prjevalskaya
Winner, 2014 New Orleans International Piano Competition and the 2013 Cincinnati World Piano Competition among many others.
Domenico Scarlatti
Sonata K.56 in C minor Con spirito
Sonata K.213 in D minor Andante
Sonata K.29 in D major Presto
Prjevalskaya
La Valse a la Ravel
Chopin
Mazurkas Op.63
Vivace
Lento
Allegretto
Chopin
Scherzo Op.31 in B flat minor
5:30 PM: Michael Sheppard
Baltimore based concert artist of international acclaim; Faculty, Peabody Conservatory and Baltimore School for the Arts.
Chopin
Ballade No. 1 in G minor, Op, 23
Andante Spianato and Grand Polonaise, Op. 22.
Event Contact
Beth Seeley
410-728-5545
Event Details
Sunday, May 5, 2019, 2:00 PM – 6:00 PM
410-728-5545
1
Offer good
04/25/19

to

05/05/19
Redemption Instructions
Choose the HALF PRICE option of $10 if buying your ticket online. Payments at the door will all be $10 ea.
Location
Add Event To Your Calendar