VIRTUALLY CREATIVE | AFTER-SCHOOL PROGRAM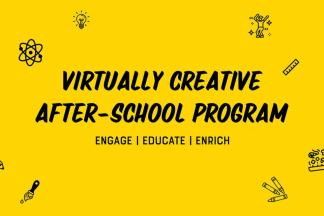 We're excited to announce the launch of the "Virtually Creative" after-school program.
The "Virtually Creative" after school program is an extension of our onsite programming that takes place at John Ruhrah Elementary/ Middle and Tench Tilghman Elementary/ Middle. In an effort to continue supporting our schools we are providing afterschool programming online. Each day, students receive homework help and hangout time to connect with friends. They will also have virtual Restorative Practice circles every Friday. Below is a detailed breakdown of the Virtually Creative schedule.
Homework & Hangout (M-R) will be a time for students to virtually check-in with their classmates and receive additional academic assistance with their homework. The goal of these sessions is to provide a safe space for students to socialize and to provide immediate reinforcement of classroom daily lessons.Click the links below to register for classes:
Mondays - Thursdays | 2-3PM | PK-1st Grade | Storytime, Homework, and Hangout | ZOOM
Monday & Wednesday | 5-6PM | 3rd Grade | Homework and Hangout | ZOOM
Monday & Wednesday | 4-5PM | 2nd Grade | Homework and Hangout | ZOOM
Tuesday & Thursday | 4-5PM | 4th & 5th Grade | Homework and Hangout | ZOOM
Tuesdays & Thursdays | 5-6PM | 6th-8th Grade | Homework and Hangout | ZOOM
After registering, you will receive a confirmation email containing information about joining the meeting.
Monday 4th-8th Grade Improv 3-4PM - Improv is freestyle comedy and theater! Learn the basics of improv and engage in theater play with friends.
Tuesday & Thursday 1st - 4th Grade Open Minds Art Integrated Literacy 3:30 to 4:30PM - Students create using recyclable materials and things around the house. The class theme is Fanciful Story Time & Shows. The class begins with Kammeran, a trained actor, reading a story. Then, Rachel leads the group in creating their own "shoebox style" puppet show. At the end of the session, students will perform their show for the group.
Wednesday 4th-8th Grade Theatre 3-4 PM - Students learn the basic and advanced theatre techniques in order to produce a virtual theatre production. The goal is for students to work in collaborative/artistic ensembles; specifically enhancing skills of listening/respect towards others and to develop vocal, physical, and imaginative skills to express theatrical material.
Thursdays 4th-8th Grade Creative Writing 3-4PM - Designed for students to create original forms of descriptive writing, poetry, drama, and fiction. Students work on vocabulary development and explore creative writing techniques.
Restorative Circle Fridays 2-5PM - A time for students to engage in Social Emotional Learning and connect with their peers about their shared-experiences. The goal of these sessions is to promote inclusiveness, relationship-building, and problem-solving.
2-3PM PK - 1st grade
3-4PM 2nd & 3rd grade
4-5PM 4th - 8th grade
Event Contact
Creative Alliance
Event Details
Ongoing
Free
Location
Add Event To Your Calendar