BMA Violet Hour: Reclaiming Lakota Independence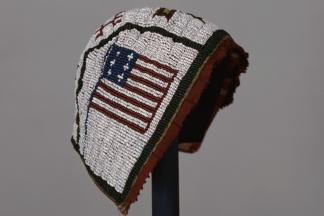 Join us for a talk inspired by Stripes and Stars: Reclaiming Lakota Independence, featuring Sheldon Raymore, member of the Cheyenne River Sioux Nation and multidisciplinary artist and performer. The conversation will be led by Dare Turner, BMA Assistant Curator of Indigenous Art of the Americas.
Experience a beadwork demonstration and storytelling with Sheldon and explore the exhibition's themes and symbolism with Dare.
BMA Violet Hour is a series of virtual programming designed to give visitors an opportunity to relax and connect with artists, makers, and the community through a series of engagements including artist talks, special presentations, performances, and interactive activities.
This event will stream live on the BMA's Facebook page.
Event Contact
Sarah Pedroni
443-573-1700
Event Details
Wednesday, February 3, 2021, 6:00 PM – 7:00 PM
Free
Location
Add Event To Your Calendar