Resident Visual Artists Exhibit 2021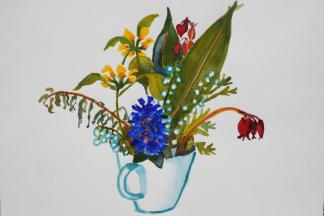 The Arts Council's annual Resident Visual Artists Exhibit showcases artists with studios at the Howard County Center for the Arts, including recent work by James Adkins, Joan Bevelaqua, Sara Engel, Myungsook Ryu Kim, Diana Marta, Joyce J. Ritter, Lisa Scarbath, Jereme Scott, Andrei Trach, Jamie Travers, Mary Jo Tydlacka, and David Zuccarini.
Exhibit dates: April 24 - May 29, with a free virtual reception on April 30 from 6-7pm. Gallery hours: Tues & Thurs 11am-7pm, Sat 10am-4pm. Exhibit also available to view online at hocoarts.org/galleries.
Event Contact
Elli Hernandez
4103132787
Event Details
Repeats weekly Saturday -- until Saturday May 29, 2021.
Repeats weekly Tuesday and Thursday -- until Thursday May 27, 2021.
Free
Location
Add Event To Your Calendar