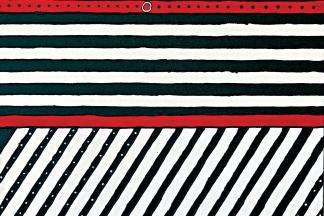 Othello
IN Series
June 14 & 15
Experience an audacious deconstruction and reimagining of Shakespeare's play OTHELLO as told through the music of Verdi.
Poet and scholar Andrew Albin has crafted a sung English text that restores Shakespeare's words to the opera, experienced here as an intimate and visceral piece of theater directed by Timothy Nelson.
The performance is centered in the searing images of British-Jamaican artist Keith Piper's work "Go West Young Man", which explores the journey of the feared and fetishized black male body through the Western imagination. Verdi's score is expanded by newly commissioned musical interludes to be performed on stage by composer and saxophonist Matthew Evan Taylor. These "Othello Interludes" are interspersed between the acts of Verdi's opera, recentering the work in the experience of its title character, a man often marginalized from his own story.
COVID Policy:
All patrons must be fully vaccinated against COVID-19. Please bring a proof of vaccination (either the original vaccination card, or a photo of the card) along with a valid I.D.
All guests must wear masks while inside Theatre Project.
Seating will be limited.
If you have any COVID-associated symptoms the day of the show, please do not attend.
Showtimes:
Desdemona: Tuesday, June 7 @ 7:30pm
Desdemona: Wednesday, June 8 @ 7:30pm
Othello: Tuesday, June 14 @ 7:30pm
Othello: Wednesday, June 15 @ 7:30pm
Tickets:
General Admission: $30
Students: $20
Event Contact
410-752-8558
Event Details
Tuesday, June 14, 2022, 7:30 PM – 10:00 PM
Wednesday, June 15, 2022, 7:30 PM – 10:00 PM
410-752-8558
Location
Add Event To Your Calendar