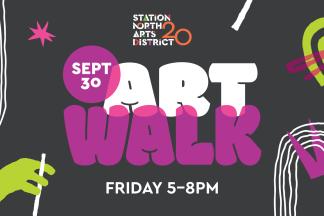 Join us for the final Art Walk of 2022, an evening of simultaneous, exhibitions, performances, and special events in the Station North Arts District. Pick up a map at the Charles Theatre lobby and create your own self-guided tour.
The event is free, we just ask that you register for a ticket so we can track attendance, and share email updates and specials.
This year marks twenty years of Station North, and we're celebrating all summer long on the final Friday of each month. Our September Art Walk is district-wide, featuring 20+ venues. Stay tuned for more information.
Follow us @stationnorth on IG/FB for a map, venue highlights, and more!
Galleries / Venues
all events are 5:00 - 8:00PM unless otherwise noted.
Area 405 | 405 E Oliver St
Open Studios
Elliot Doughtie, Liz Donadio & Shannon Collis (shared studio), Priyanka Kumar, and MJ Neuberger | 2nd Foor
Terence Nicholson | 3rd Floor
Indoors, masks encouraged. 2 steps to enter the building and stairs to the 2nd and 3rd floors
Artist & Craftsman Supply | 137 W North Ave
Artist and Craftsman Supply will offer a marbling activity from 5PM-8PM, free for all Art Walk participants. Creating marbling effects is easier than ever before. Drip, dip, done! Marabu Easy Marble is quick drying and ideal for creating Marbling effects on a variety of surfaces.
Indoors, masks are encouraged
Arts for Learning Maryland | 21 E North Ave
Vibrant Art + You = a great time! Join us for an Art Party to learn how Arts for Learning Maryland is changing the future education in the state. Meet us in front of our new office at the historic O'Dell's on North Ave. Materials limited - first come, first to enjoy
Outdoors
Baltimore Design School | 1500 Barclay, 3rd Floor
Join design students and their faculty for an intro to the design thinking process. Tour the gallery space in our award-winning building and experience the impact Baltimore Design School has made in Educating Design Thinkers!
Indoor/Outdoor, masks encouraged, accessible parking, ramp into building and courtyard area. Wheelchair accessible restrooms.
Baltimore Jewelry Center | 10 E North Ave, Suite 130
The One and the Many Group Exhibition
The Baltimore Jewelry Center will host The One and the Many: A Metal Shop Exhibition of Art and Production Jewelry, a group exhibition juxtaposing art and production practices within the metalsmithing and art jewelry community. The One and the Many illustrates the reciprocal relationship between singular works and the production practice of the artists featured in the Baltimore Jewelry Center's retail space, Metal Shop. Featuring work by twenty-five local and national artists, the exhibition asks viewers to critically examine cycles of making.
Indoors, masks required. Entrance located on the Charles St. side of the building near the BJC mural. Ring doorbell. Access via ramp but no automatic doors.
Barclay Park | 1719 Barclay St
Stoop Party + Drum Circle at the future site of Greenmount West's Community Playground
Welcome to Greenmount West's Stoop Party at Barclay Park! Come & play the drums, dip in our splash pad, and enjoy a snack all while hearing about the exciting efforts to build a community playscape in this very space with partial funding recently awarded from Central Baltimore Partnership's Spruce Up Grant.
Outdoors
The Charles Theatre | 1717 N Charles St
Art Walk Welcome Table with printed maps, 'Walk with Station North' at 6PM
~Welcome Table: Pick up an Art Walk printed map and chat with Art Walk staff and volunteers at the welcome table. Come back for a late night film at Baltimore's oldest movie theatre.
~Walk with Station North, meet at 6:00PM: Is this your first Art Walk or would you like to walk with a group and meet new people? Join Seema D. Iyer, intrepid comedy fan and SNAD advisory committee member since 2018, for a walk around the Arts District. Seema D. Iyer, PhD oversees the Baltimore Neighborhood Indicators Alliance at the University of Baltimore and is director of UBalt's undergraduate Real Estate and Economic Development program.
Indoors
The Cork Factory | 302 E Federal
Jordan Faye Projects - 5th Floor
Works by Jenee Mateer, Lori Larusso, Jordan Faye Block, & Blythe Thea Wilson
Indoors, elevator
Galerie Myrtis | 2224 N. Charles St
The Beautiful and the Damned, an exhibition featuring Lavett Ballard, Monica Ikegwu, and Megan Lewis curated by Myrtis Bedolla. Meet and greet with the artists, Lavett Ballard and Megan Lewis.
"The Beautiful and the Dammed asserts beauty as imagined through the lens of three African American women artists who challenge the notion of the historic limiting and unattainable standards of what is desirable."- Myrtis Bedolla, Curator
Indoors, masks encouraged, steps to enter
Gallery CA | 440 E. Oliver Street
The Space Between Us: Decolonize Abstraction, Exhibition curated by Lily Xiao
Featuring the work of Bobby Blazek, Xavier Hardison, Ramon Knight, Rebecca Marimutu, Bobbie Waugaman, and Adam White. BIPOC (Black, Indigenous, and people of color) artists have a unique connection to abstraction, and the materials that have shaped our understanding of art. Materials are intrinsic to identity, and our individual cultures are the baseline in our understanding of creation. There has historically been a lack of acknowledgement of the abstract, and experimental works by these communities. We are BIPOC artists who use abstraction as a method of expression in their work, breaking free from the western canon. This exhibition will include painting, installation, and newer genres of media.
Masks encouraged, gallery is on the first floor and wheelchair accessible
Hancock Solar Gallery @ Nelson Kohl | 20 E. Lanvale
Kelly Walker solo exhibition
Last chance - closing October 1! Kelly Walker, American born, self taught artist uses a wide range of materials, making intricately layered work referencing graffiti, landscape and color fields. For more information and to schedule appointments contact www.nelsonkohl.com or www.kellywalkerfineart.com
Indoors, fully accessible
Impact Hub Baltimore | 10 E. North Ave
Join Impact hub for live mural painting, music, and poetry. 'Be a muse' for local muralist Jaz Erenberg and enjoy performances and connection.
Outdoors, please do not attend if you've had Covid-19 in the past 10 days, steps to indoor bathroom
James E. Hooper House | 100 E. 23rd St
Donate to the Hooper House displaced artist fund
On Sept 17, Hooper House was subject to an unexpected fire. While thankfully no one was injured, ten artist tenants and entrepreneurs suffered a devastating loss of studio space and personal property. This fund will be distributed to all tenants affected. If you have studio or storage space to offer, please reach out to [email protected].
MICA - Fred Lazarus IV Center | 131 W. North Ave
Image Harvest, Illustration Practice MFA Exhibition
Celebrate the opening of the first MICA Graduate Fall Exhibition, Image Harvest, by Illustration Practice M.F.A. students. On view in the Riggs and Leidy Galleries in the Lazarus Center until Oct 2.
Indoors with outdoor ramp access and indoor elevator
Motor House | 120 W. North Ave
*Theater Tour with Rapid Lemon, 5:00 - 7:00 PM, Show at 8:00 PM
Get a sneak peek at Rapid Lemon Productions' latest show, "Variations on Change." It's the 18th annual ten-minute play festival in Baltimore, appearing live on stage at Motor House. Curtain time is 8pm, and you can get an early glimpse during the 9/30 Art Walk. The box office will be open for ticket purchases, and to provide information about this amazing local production.
Masks required for the tour and show
*Annual Tenant Exhibition - West Bay Gallery
*Nada Avg Happy Hour Special + Art Making (more info under food/drink)
18+unless accompanied by an adult
New Door Creative | 1601 St. Paul St
"TAKE A LOOK!" Exhibition
Works by New Door Creative artists, featuring Morgan Monceaux Linocuts.
Indoors, masks encouraged
No Land Beyond | 2125 Maryland Ave, 7:00 PM
Whose Roll is it Anyway? (Live RPG Comedy)
No Land Beyond is hosting a blowout party and you're invited! Beginning at 7 PM, join us for D&D folk outfit BARD CITY, followed by musical-comedy-improv-gamers WHOSE ROLL IS IT ANYWAY at 8 PM. Then, head to the game dungeon for a late night dance party with DJ Mark Brown!
Indoors, masks encouraged, steps to enter the building and stairs to the event
The Schuler School of Fine Arts | 7 E. Lafayette Ave
The Schuler School of Fine Arts is an atelier focused on the old European master fundamentals. See the historical monument studio of Hans Schuler. We will provide light refreshments and an art show. Tours will be provided.
Indoors, portable ramp for wheelchairs
Station North Books | 34 E. Lanvale
Music by Tom's Back Door Band
Peruse a treasure trove of older books: Baltimore and Marylandia, art, architecture, signed, literature, film, history, and fine bindings. You never know what you'll find!
Indoor/Outdoor
Stillpointe Theatre | 1915 Maryland Ave
Stargazey Pies and other Delights Exhibition
New Work by Alix Tobey Southwick
Masks required when not actively eating/drinking
The Style Lounge Boutique | 1734 Maryland Ave
New to Art Walk! Check out new fall fall pieces - vibrant colors, print fabrics, and other styles await. Enjoy up to 40% off selected styles.
Tightfisted Fashion | 2114 N. Charles St
Secondhand Style
Grab a bite and beverage while you participate in the fashion challenges, style sessions, games and shop vintage and secondhand apparel and home goods!
Indoor/Outdoor, steps to enter
True Vine Record Shop | 1827 N. Charles St
Drop in to True Vine for a live DJ set and browse one of the best collections of nontraditional music albums on vinyl. True Vine features a mix of music from rock, alternative, pop, indie, psychedelic, hip-hop, jazz, and so much more.
Indoors, step to enter the bathroom.
Food / Drink
The Empanada Lady at Showroom Bar, Motor House | 120 W. North Ave
"Nada Avg Happy Hour" special with traditional empanadas 3 for $20 or 1 for $7, dine-in only. Vegan options available. Stay and create with canvas and print markers.
Guilford Hall Brewery | 1611 Guilford Ave.
Mention 'Station North Art Walk' for a buy one beer/get one free drink special!
Indoor/Outdoor, handicap accessible with an elevator and ramps.
Joe Squared | 33 W. North Ave
Joe Squared offers fine food, live music in our downstairs event space and local art hanging on the walls. Happy Hour is from 4 - 7:30PM, and late night happy hour 9 - close!
Indoors, masks encouraged.
Event Contact
Abby Becker
410-929-4362
Event Details
Friday, September 30, 2022, 5:00 PM – 8:00 PM
Free
Location
Add Event To Your Calendar