Helicon's 37th Annual Winter Solstice Concert with Charm City Junction, Ken & Brad Kolodner, and friends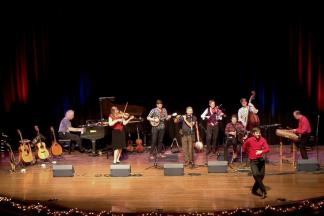 A Baltimore tradition featuring the Baltimore-based trio, Helicon (with Chris Norman, Ken Kolodner, Robin Bullock) with special guests Charm City Junction and The Ken & Brad Kolodner Quartet, Jonathon Srour and Elke Baker. Internationally renowned traditional folk musicians -Ken Kolodner (hammered dulcimer, fiddle, hammered mbira); Chris Norman (wooden flutes, tin whistle, small pipes, piano); and Robin Bullock (guitar, cittern, mandolin, piano)—play a unique blend of original, seasonal, and traditional music from Ireland, Scotland, Appalachia, Canada, Europe, Africa and the Far East--a great way for families to kick off the holiday season with an extremely energetic and varied performance. Kolodner's son, Brad Kolodner, will join the fun as a guest on clawhammer banjo, fiddle, and vocals (a frequent winner/finalist of national banjo contests, former Strathmore Hall Artist in Residence, WAMU DJ, 2016 International Bluegrass Music Association [IBMA] Momentum Award Winner; Nominated twice for IBMA DJ of The Year; Charm City Junction, The Ken & Brad Kolodner Quartet). Joining Ken and Brad is one of the best-known old-time musicians in the U.S. Rachel Eddy (fiddle, vocals, guitar) along with the mid-Atlantic's go-to bassist, Alex Lacquement (The Bumper Jacksons. Charm City Junction).
Helicon and Friends celebrate the release of a live recording of the 2021 concert: Live with Helicon!
The Ken & Brad Kolodner Quartet celebrate ten years of performing together. Their latest CD, Stony Run, which hit #4 on The Billboard Bluegrass Charts in 2020. The Quartet won 1st place at Neo-Traditional Band Contest in 2019 at Clifftop, the largest festival celebrating Old-Time music in the world. Charm City Junction features button accordionist Sean McComisky (son of Irish music legend Billy McComiskey), fiddler Patrick McAvinue (The 2017 International Bluegrass Music Association Fiddler of the Year, Dailey and Vincent), Brad Kolodner and Alex Lacquement. Charm City Junction's last release Duckpin hit #3 on The Billboard Bluegrass Charts. Returning once again to light up the stage is the man in the red pants, the electric North American Irish step-dance champion Jonathon Srour. Ken Kolodner's collaborator of 20+ years, Scottish National Fiddle Champion Elke Baker, joins the show once again. Baker and Kolodner released On a Cold Winter's Day in 2021.
Helicon toured widely throughout North America and Europe for many years. The members ceased touring in 1998 to pursue solo careers. They are internationally recognized as among the finest practitioners of their respective instruments, recording over 50 recordings. Together, the members of Helicon continue to work their magic year after year. The trio has roots in the Baltimore/Washington area: Kolodner was born here and still resides in Baltimore, Norman lived in Baltimore since age 11 and now has returned to his native Nova Scotia; and Bullock now lives in NC but was originally from the DC area.
WHEN:
Saturday, December 17, 2022 for two shows: 3:30 pm & 7:30 pm
WHERE:
Kraushaar Auditorium, Goucher College, 1021 Dallaney Valley Road in Towson, MD 21204
CONTACT:
Ken Kolodner 410-746-8387; [email protected]; [email protected]
Helicon, Charm City Junction, Elke Baker, Ken & Brad Kolodner, with Jonathon Srour performing at Helicon's 30th Annual show!
Event Contact
Ken Kolodner
410-746-8387
Event Details
Saturday, December 17, 2022, 3:30 PM – 5:45 PM
Saturday, December 17, 2022, 7:30 PM – 9:45 PM
410-746-8387
Location
Add Event To Your Calendar