Mount Vernon Virtuosi Family Concert at Bender JCC of Greater Washington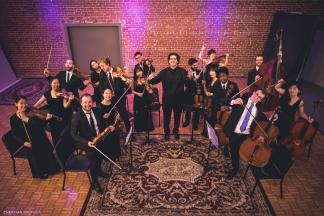 Join Amit Peled and the Mount Vernon Virtuosi for a 45-minute program for kids under the age of 8. All family members are welcome to attend!
Baltimore-based Mount Vernon Virtuosi is an innovative chamber orchestra of exceptional young musicians who are in transition from their studies to a professional career. Founded by cellist, pedagogue, and conductor Amit Peled, the ensemble alternates between a free-of-charge concert season in several Baltimore area communities with events in Virginia, greater Washington DC, and beyond. The Mount Vernon Virtuosi regularly performs at three venues in Maryland – the Pratt Library in Baltimore, Spencerville Seventh-day Adventist Church in Silver Spring, and the Bender JCC in Rockville.
Event Contact
Christen Hooks
(856) 237-3749
Event Details
Sunday, February 19, 2023, 11:00 AM – 12:00 PM
Free
Location
Add Event To Your Calendar