Patrick Crossland and Thomas Moore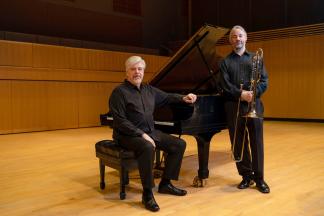 Trombonist Patrick Crossland and pianist Thomas Moore present a program of contemporary works by John Cage, Thomas DeLio, Alvin Lucier, and Christian Wolff:
John Cage (1912–1992) — Two5 (1992)
Thomas DeLio (1951–) — …klingend for solo piano (2017, premiere)
Alvin Lucier (1931–2021) — Panorama (1993)
Christian Wolff (1934–) — Exercise 17 for solo bass trombone (1975)
Christian Wolff (1934–) — For 1, 2 or 3 People (1964)
Trombonist Patrick Crossland was born in Jackson, Mississippi. Growing up in southern Louisiana, he began playing trombone at age 10. He has worked closely with several prominent composers. Solo performances include the Walker Art Center's Festival Dancing In Your Head (2001, 2002, 2005), the Darmstadt Course for New Music (2004, 2006, 2008), where he was awarded a Solo Performance Prize, and the "Utopia Jetzt!" Festival (Germany) where he performed his acclaimed V for Grock multimedia recital. In 2009 he premiered his Krieg dem Krieg project featuring thematic works for trombone and electronics. In addition to his activities as a soloist and chamber musician, he is an avid improviser, working with a wide range of musicians, dancers, and actors. He is a member of the Composers Slide Quartet, Ensemble Laboratorium, and Zinc & Copper Works. He teaches trombone and other music courses at UMBC.
Thomas Moore has had a long association with the music of John Cage and other contemporary composers, including Morton Feldman, Christian Wolff, Olivier Messiaen, and Thomas DeLio. Cage, who wrote the solo piano work ASLSP at Moore's request, said, "I am delighted that Thomas Moore plays my music, studies and thinks, writes and talks about it. He is an excellent musician, one in whom I have confidence and whose work I enjoy." Moore was the grand prize winner of the 1982 International Piano Recording Competition. His performances can be heard on Neuma Records, Chen Li Music, 10 West Records, O.O. Discs, and Spectrum Records. He has been director of arts and culture in Institutional Advancement at UMBC since 1995.
$15 general admission, $10 seniors, $5 students. Please visit here to reserve seats.
Earl and Darielle Linehan Concert Hall is easy to visit, with plenty of free parking. Please visit here for directions and parking information.
Photo: Kiirstn Pagan
Event Contact
Event Details
Thursday, April 6, 2023, 7:30 PM – 9:30 PM
Location
Add Event To Your Calendar